A wafer-thin TV has a small room for wafer-thin speaker inside. The same applies to your tablet or cell phone. If you are watching your favorite movie on an amazing 4K HDR TV with amazing picture technology, you will want some serious audio to go along. In this case, a good soundbar will do wonders. In any case, it is your duty to make your TV sound awesome.
Nowadays, there are several makes and brands of soundbars on the market. Although some are excellent, others are worth the bubble wrap they come in. When it comes to features, you will find the soundbar quite different. It also has some features that you ought to pay attention to. Maybe you have found it difficult to choose the right soundbar for your home owing to many options on the market.
Where to Place It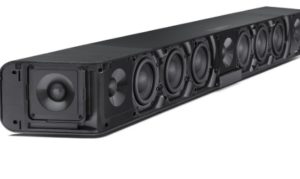 It is a good idea to look at where you have placed your TV and the amount of space around it. That will help determine the type and shape of soundbar to purchase. Nowadays, soundbars available on the market are quite versatile as far as installation is concerned. For instance, they are made to sit under the TV or hang on the wall. The good thing about soundbars is that they are easy to set up. If your TV is on a table, just place the soundbar on the same table below the screen. There are soundbars that come with mounting kits to make the installation process easier.
Size of Soundbar
Ideally, your soundbar ought not to be wider than your TV. The truth is that you can pair the soundbar with any particular size of the TV. Therefore, as far as size is concerned, you have the freedom to choose any size you want. You only need to ensure that your TV has the right connectivity to hook up the new soundbar.
Active or Passive Soundbars
The passive soundbar is one that does not have a built-in power amp. That means it requires an amplifier or a receiver to work. However, they have better speakers that deliver better sound. Therefore, it will cost you more to get a passive soundbar. On the other hand, an active soundbar means it has built-in amplifiers.…