For anyone who loves woodworks or engages in carpentry work frequently, then a miter saw is quite a phenomenal tool that rewards with versatility in usage and requires less manpower. For wood cross-cuts, angled cuts and miter cuts, there is no any other tool that comes in handy more compared to the miter saw.
For an effective and easy miter saw operation, one needs a miter saw stand for stability and prevention of errors in dimensional woodcuts. With its power of cutting woods fuss-free, a miter saw stand should be very firm and not to keep tilting. There exists various miter saw stands with a good example being Dewalt DWX723. One should shop for a miter saw stand that provides sufficient support when working with the saw.
Purpose of a Miter Saw Stand
As is with any other appliance or tool, it highly pays for one to take his/her time to think about personal requirements before coming up with a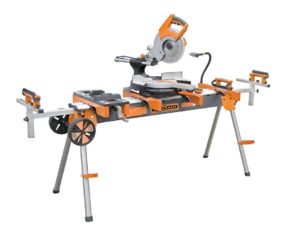 shortlist of exactly which tool to buy. There's usually no such thing as the perfect miter saw stand. What one needs to get is the most fitting saw stand that highly suits the machine specs required to be mounted on the stand. Some specs might be included as additionals when buying a stand to cater for extra, but not so much regular duties, although these additional qualities aren't included on only one type of miter saw stand, but a variety of them. One should know if there are other things to be done with the stand other than buying a very simple machine knowing there are other duties that might be depended on the stand. Let's have a look at some of the most important qualities you need in a miter stand.
Portability
Miter saw stands are bought so that one might use a miter saw in different positions and areas with utmost firmness and effectiveness. This can be provided by miter saws that aren't uncomfortably heavy however much they are firm. Miter saw stands should be conveniently heavy to provide ease in carrying and stability when in use.
Versatility
Some stand designs come with additional specs to cater for other woodcutting machines, and this is quite a good quality when you work with other tools instead of searching for stands to cater for each of your woodcutting machines.
Ease of Use
With the ease of use, some stands might be hard to tilt at the joints because they were designed with tight-fitting joints or might not be conveniently stretchable to provide excellent stability when working with the miter saw.…